The less-than-Glamourous yet magical time of life with a newborn
Won't you take stock with me? Copy and paste this list, fill it in, keep it to yourself or share it with me dawn@roospotting.com It's amazing to see what sorts of themes develop when you answer such simple questions. Find out what's on your mind! Scroll down to copy and paste your list.
Making : Messes.
Cooking : Reheating frozen meals and enjoying food that friends are dropping off.
Drinking : Had my first few glasses of bubbles on the weekend. #popbub
Reading: Short articles, mostly on Social media. I was in the middle of 'What Happened,' by Hillary Clinton but haven't read any since I was in labour (after the epidural obvs).
Wanting: More sleep.
Looking: Like a Mother with a newborn. #teamdirtyhair
Playing: More like avoiding play, encouraging my 4-year-old to play independently because I have just enough energy to survive and keep the kids alive.
Deciding: What is more important? Nap, shower or food. Depends on the day.
Wishing: That my babies won't grow up too, too quickly.
Enjoying: The lack of anxiety and sense of calm this time.
Waiting: There is no time for waiting. Someone is usually waiting for me to do something.
Liking: Baby bath time.
Wondering: When Imogen will sleep through the night....I know it's early but I'm impatient!
Loving: Having a family of four.
Pondering: At why the days feel so long and so short all at the same time.
Considering: Putting baby into a routine but it seems like SO MUCH WORK.
Watching: Stranger Things, Stand-up Comedy (on Netflix), The Let-Down (on ABC iview).
Hoping: That little baby Imogen is as chilled out as she seems. We are still in the newborn phase so it's hard to tell with all that eating and sleeping. Fingers crossed.
Marvelling: At how some parents go YEARS with interrupted sleep. I would not survive without losing a few marbles.
Needing: SLEEEEEEEP. More Sleep.
Smelling: A baby's head. All day err'y day.
Wearing: Nursing tops and bras, maternity pants. Boo.
Following: Following my thumbs as I mindlessly scroll through Facebook and Instagram so I can stay awake while feeding in the middle of the night.
Noticing: How chubby Imogen's cheeks are getting. 🙂
Knowing: That life is pretty damn good right now, busy, but good.
Thinking: About moving the whole family down to the beach....ahhhhh. Someday.
Feeling: Grateful for all the love and support I have from my chosen family here in Australia. I know this is how I've been able to dodge a second round of PND so far.
Admiring: Mothers. All Mothers.
Sorting: Getting rid of maternity clothes and newborn clothes because I. Am. Done. No more babies!
Buying: So many art and beach supplies from Aldi!! I'm the only person who can go in there and spend nearly 200 bucks at a time. I don't get out much.
Getting: Excited for the holidays simply because Matt has three weeks off. I couldn't care less about the holidays themselves. Just want some more family time.
Bookmarking: Things to read when I have a longer attention span.
Disliking: The work week.
Opening: Opening and closing the laundry machine on the reg.
Giggling: Like a goofball when I can get my 5 week old to genuniely smile. It's the best.
Feeling: Like I'm okay but that I need to take care of myself because it won't take much to throw me off my game.
Snacking: On all the treats. Breasfeeding makes all food taste SO GOOD because I'm starving all the time.
Coveting: Quiet time. It's in short supply. But then it seems too quiet and I have to put on the TV or music for background noise. I'm weird.
Wishing: I had more energy, but it could really be worse.
Helping: Hoping to help connect new Mums to some great advice in these videos I made with Bupa. This one is about breastfeeding and this one is about me time (for parents in the first 1000 days).
Hearing: White noise because the baby is napping.
Want to Take Stock With Me?
Making :
Cooking :
Drinking :
Reading:
Wanting:
Looking:
Playing:
Deciding:
Wishing:
Enjoying:
Waiting:
Liking:
Wondering:
Loving:
Pondering:
Considering:
Watching:
Hoping:
Marvelling:
Needing:
Smelling:
Wearing:
Following:
Noticing:
Knowing:
Thinking:
Feeling:
Admiring:
Sorting:
Buying:
Getting:
Bookmarking:
Disliking:
Opening:
Giggling:
Feeling:
Snacking:
Coveting:
Wishing:
Helping:
Hearing:
Pumpables Milk Genie gave me a pump to try and it's a beauty so I'm going to tell you about it here (post contains affiliate links).
Bright lights, a blue sheet, instructions spoken in serious tones. I'm shivering despite the lower half of my body being deadened. Unfamiliar faces briskly go about their business around me in the crowded room.
I never imagined giving birth by caesarian section. My four-week-old daughter Imogen is fine and healthy but her birth was a terrifying experience. I still can't really think about it without getting teary.
When you give birth this way, even if you go through labour first, often your milk supply is delayed. Add to that my extensive blood-loss and I was even more disadvantaged due to dehydration.
These factors worked against me, someone who already had low expectations for breasfeeding because the first time was so awful. During my pregnancy I did everything I could to get myself in a better position to breastfeed my second baby.
I did some research on breastfeeding and even made this video with Bupa- with helpful, honest advice for women in their first thousand days of parenting (from conception to age two). In this one, I'm chatting with a lactation consultant, Jess Krigstein and Chantelle from the amazing blog, Fat Mum Slim. Real mums talking about real issues.
Video by The Lifestyle Suite
After arriving home from the hospital I knew my daughter was hungry. She was a big baby already and had a ferocious appetite. My nipples were shredded from her constant feeding and I knew we needed to give her some formula until I had the chance to get my milk going.
I sent my husband out for some and as soon as he walked in the door with that magic tin, I felt instantly better. After her first bottle, Imogen was a different baby, quiet and sleepy. With my first, I would have felt like a failure. Why? I can't say. The pressure to breastfeed exclusively can be not only enormous but dangerous too.
I set about giving my hungry bub formula top-ups after feeds and and started expressing every two hours. Luckily I have this kick-ass pump which allowed my sore nips to heal and assisted with bringing in my milk after a few days.
With my first kiddo, a friend lent me a pump to use, and I broke it. I bought her a new one to replace it (even though she said I didn't have to) no surprise that I wanted to try a different brand next time.
Apparently, not all pumps are created equal. I wanted a really good one but had no idea where to start. What's a parenting blogger to do? Well, poll my audience asking them for recommendations of course!
The Medela swing came highly recommended along with the Spectra. I considered renting a hospital grade pump because they are supposed to be incredible but talk about an investment! Very expensive, even with an ABA discount.
Pumpables read my post and offered to send me theirs to try. I said yes but still planned on buying another one as a backup but never did. When the Milk Genie arrived I was pleasantly surprised with its quality and it had all the features (and more) that I wanted.
The Milk Genie is a double pump and chargeable which means PORTABLE. No more being chained to one power outlet while expressing.
The pump itself has a timer on it- which makes life easy. And the face lights up- I didn't realise how handy that was until feeding at night when I used it as a little flashlight.  Um, and did I mention the motor is super quiet too? I can't tell you how many videos I have of Lavinia (my first) with the obnoxious sound of my previous pump grinding in the background.
The Milk Genie is simple to use but also has some fancy features I haven't even tried yet- like memory mode where you can create and store a little program for expressing.
And want to know the best part about this pump? At $180.00 AUD costs less than other, more popular brands.
So yes, I had the right pump and a tin of formula, but the main tool that helped make breastfeeding a success the second time around is me and my open mind. I took feeding one day at a time and resolved to stop judging myself. I would get my precious baby full no matter the method.
I'm happy to report we are exclusively back on the boob with a nice, big supply of milk. I've still got a tin of formula in the pantry and I'm not afraid to use it! Imogen is a great feeder and we have nailed our latch to the point where I'm no longer sore. We did it...For now.
So give yourself a break, do the best you can and instead of creating crazy expectations, be kind to yourself. Fed is best.
How did you go with breastfeeding? Would you do anything differently next time?
Brought to you by Bupa
Postnatal depression; the gift I never asked for or wanted. Fighting my way through it made me stronger and taught me self-acceptance.
Now that I'm in my First Thousand Days, and pregnant with my second baby, I worry about postnatal depression returning for a rematch even though 'theoretically' I should have all the tools I need to tackle it again.
One major advantage is that I know my opponent. Another is that many risk factors I faced last time no longer exist; I'm settled in our neighbourhood, I've got my confidence back, I've built a village and I'm comfortable not having all the answers.
But there are certain 'X factors' that are out of my control like hormones and a history of depression- so I'm still a chance. Rather than betting on the odds of getting a second round of PND, I'd rather prepare as much as possible before the next baby arrives.
I'll tell you exactly what I've done so far, but you should know the last four years have not been an easy road. 
My Baby Plan
I figured a four-year age gap between children would suit my family's lifestyle well. My oldest would be in kinder, allowing for some time alone with the new baby.
Our second little girl might even arrive on our daughter's fourth birthday. Yikes! That's what I call efficiency.
Why the control-freak spacing? I could narrow it down to two, well, really one main reason and a subcategory. 1. Postnatal depression and 2. Living as an expat.
My parents are a 24-hour flight away and my in-laws, a two-hour drive. More than access to free babysitters, I needed to make sure I felt mentally ready to take on another child.
Why Didn't I Just Stop At One?
I've always wanted two kids. There is nothing quite like a sibling, the history you share together and the bond is unlike any other. I told myself it would be okay if the magical day of being 'ready again' never arrived but deep down our family felt incomplete.
It makes sense that women who experience postnatal depression may wait longer to have more children, some might not even try again at all.
Happily, I can report that I feel more confident to face the beast again. I've worked so hard on improving myself since becoming a mother. The support network I've built is huge and warm. I'm no longer afraid to ask for help.
So What Else Can I Do? 
During the first trimester of my second pregnancy, I struggled with an immediate lack of energy and the unwelcome symptom of morning (which should be called 'all-day') sickness. It was like someone pushed the pause button my busy life without permission. I felt frustrated and flat. I knew I needed to do something before it got worse. So I did what I do best. Plan, plan and make lists.
Preparing For Postnatal Depression: 6 ways
 1. Make An Appointment
 I decided to touch base with my therapist, I didn't feel depressed exactly, but I wanted to talk about what I could do today in order to help myself when the baby arrived.
 2. List Your Previous Symptoms
 My therapist suggested I consider what symptoms made me seek help last time so I could pay attention should they present again. For me, anxious feelings and negative self-talk are the biggest red flags.
 3. Plan Some Me-Time
I already have childcare arrangements for my daughter but I remember how important it was for me to have time-off from her during the newborn stage. Life will do doubt become even busier soon but even an hour or two is enough for a 'reset.' It's amazing what a walk, yoga class, coffee break or visit with a friend can do for my wellbeing.
 4. Secure Your Network
Hopefully, with your first child you were able to create your own little network and you know who to go to for what. I'm still close with my Mums group and we have some fantastic neighbours. I also volunteer at my daughter's childcare centre and have some incredible support there too. I'll be calling on them.
 5. Pre-Arrange Tasks
People will offer to help you which is generous and amazing. Remember, they aren't just being polite, learn to say, 'yes please.' I find that you do have to go a step further (people generally aren't mind-readers) and ask for what you want. If you go blank, just ask for a freezer meal or have them hold the baby while you shower or nap.
6. Manage Expectations
The new little person in my pouch will likely be different from her older sister. It's important that I don't project expectations onto her or myself.  What worked for one baby might not work for the other. Best to start with a clean slate and take it one day at a time. Last time I had an easy baby and a messy mind. This time it could be the complete opposite and that's okay.
YOU GOT THIS.
The steps I'm taking won't guarantee a smoother time but being realistic, proactive, and open, might give me the best chance I have at dodging postnatal depression. At the very least I can be kind enough to myself to remember that I've been through this before and I can beat it again.
Bupa is providing support and guidance to parents during their First Thousand Days of parenthood. To find out more, click here.
And if you're concerned at all about postnatal depression or just need a bit of extra help, you can check out the resources provided below:
Mummatters - http://www.bupa.com.au/mummatters
Beyond Blue - https://healthyfamilies.beyondblue.org.au/pregnancy-and-new-parents
PANDA - https://www.panda.org.au/
Four nights in a room to myself (practically), someone bringing me meals, checking on me, giving me medication and nurturing. All expenses paid (except for the epidural). Sign me up!
All I have to do to earn that little vay-cay is give birth.
Wait a second- what?
Yup. Giving birth is the ultimate excuse to stop. doing. all. the. things.
Is this sad, hilarious, or just insane? Probably the hormones talking.
I think what this means is, life is a teeny, tiny bit, too busy. Last week nearly broke me. I volunteer on two committees and run my business from home. Not to mention I also need time to write, paint, keep my three-year-old alive, my household fed, and bake a baby. Just to keep things interesting, I have this chronic, pregnancy-induced back pain that flares up every afternoon and leaves me almost debilitated (and laying horizontal on a hard surface).
Maybe it's time to take my own advice.
I'm always preaching about the benefits of Me-Time. It's one of the main tools I used to overcome postnatal depression. Admittedly I'm not always great at keeping up the practise.
Maybe self-care is like 'balance,' or like 'being present,' something to strive for but never achieve? Or maybe I'm just making another excuse.
It can't be that hard. My husband said to me, if I can't use pregnancy as an excuse to slow down then I can't use anything (I suspect he's right and that the world will keep turning).
Saturday morning my mood took a bigger dip than it had in a long time. The real red flag rose up when I realised that I could not think of one thing I wanted to do. Not painting, not yoga, not even ice cream. One of depression's flashing,neon signs- the things you love to do are no longer appealing.
Luckily my husband and daughter suggested we go out to lunch. I didn't want to leave the house but knew I should. We went out for pizza. It was the first time in a week I had enough energy to have an actual conversation. Between bites of mozarella-y goodness and my husband gently probing me out of my shell, I started to feel better.
Afterward, we went to a fancy-schmancy grocery store where I found one of my American favourites, spaghetti squash. (Food makes me happy, it's all I have these days). I also decided to be a rebel and buy myself some soft cheeses (this kid is practically cooked anyway. It's fine. She's fine. I'm a bad Mum sometimes.) Back at home I parked myself on the couch, had my dinner prepared by a handsome chef, and watched a few documentaries.
By the end of the night, I felt so much better, mentally and physically. The most important thing I did is give myself permission to feel lousy and then permission to relax. Maybe I don't need to wait for the hospital in order to get some nurturing. Easier to take care of a baby when they're still inside anyway.
I've got one cracked nipple, one leaky boob, barf on my shirt, and haven't showered in three days. It's 2:00PM and just spend 45 minutes trying to settle my baby before army rolling out of her nursery like a ninja so I could go slam a bowl of cereal for lunch, only to notice I'm out of milk.
Hi, you might know me. I'm a new Mother.
In order to stay alive for the next few days, I must use the rest of my energy reserves to pack the car and enter society. Dread settles upon me with this realisation.
Know what I'm guaranteed to hear at least once while I'm out shopping surviving?
"Enjoy this stage! It goes so fast!"
I'll think to myself; "I sure as shit hope you're right because this infant is literally trying to kill me."
Do people say these things to folks as they train for marathons? Do little old ladies line the streets holding signs that read, "Enjoy this!" "No Pain no gain!" "It goes so fast!"??? Yeah-no.
I get it, the (mostly older) women (likely with grown children) at the shops are looking at me with glasses so rose-coloured that they may as well be staring through a glass of Merlot.
My Mother-in-law once described breastfeeding as "blissful" when the only word I had to describe it was "hell." Maybe in 30 more years, I might remember it more fondly too.
I get it. The people, with the comments, they're well-meaning. Their kids have left the nest, they reminisce about the good ole' days. But as a new mother, I'm right in the shit.
Early days with my first baby felt like a game of emotional roulette. What would today trigger? Anxiety? Depression? Stress? I loved my baby, maybe too much, and had not enough left over for myself.
Three-and-a-half years later now, memories of that tough stuff faded a bit. Ah, the gift of forgetting, as they say. Why else would any sane woman go back and birth more children (like I'm about to do in 3 months time)? Maybe I'm looking through a glass of Rosé myself, though still decades from a Merlot or even a Pino Noir tint.
We must remind ourselves that Mothers are fragile in the early days, especially first-timers. Sometimes all they need is empathy, not strangers demanding they 'enjoy' every minute of 'keeping a baby alive.' 
I mean, I love my child more than anything which is why I haven't left her on a stranger's doorstep or given to rocking silently in a corner. Can't I adore my kids and at the same time admit parenting is kind-of a bum deal?
Maybe try telling a new Mum it's normal to find it hard. Tell her she is doing a great job, even if the baby is screaming as she fumbles with her wallet. Tell her to take her time. Tell her that it will get easier in some ways and harder in others.
I'm somewhere between the older woman at the checkout and the first-time Mum. Soon I'll be back in the newborn fog and maybe a smile from an empathetic stranger might be all the fuel I need to make it five more minutes without a breakdown.
So if you see me, "The new Mum," out in public, please don't tell me to enjoy this. Maybe instead, tell me to keep up the good work.
Is a second pregnancy really THAT different?
"All pregnancies are different," They said.
I didn't believe them
My current condition brings along a colourful cast of unfamiliar symptoms; bad skin, stray neck hairs, and worst of all, the dreaded all-day-nausea. I was unprepared for this but I'm learning how to deal. These are my tips on how to have a better second pregnancy.
My first pregnancy was a breeze for which I've always been grateful. No morning sickness except for a few brief moments, nothing a cup of ginger tea couldn't fix.
I was tired, sure, but napped when I got home from work. I still cycled to the office, went to the gym, recharged on weekends, stared longingly at glasses of wine. NBD.
Four years later and four years older, it's a different ballgame. I have a three-year-old daughter and run a business from home. That's a different type of busy.
"It's always more difficult when you have another child to look after," they said. No kidding.
They were right.
How to Have a Better Second Pregnancy
1. Ditch the Guilt
During the first trimester, I let my daughter watch a movie every afternoon so I could take a nap. Yup. Sometimes I passed out on the couch next to her and other times I took myself to bed (after giving her a water bottle, a snack, and locking the house- almost as if she were a puppy).
2. Food Prep
The second I fell pregnant, I became the world's pickiest eater. Nothing appealed, except for carbs. The less I ate, the more nauseous I became. There had to be a solution other than eating potatoes and pasta with vitamins on the side. So I did what I do best and made a list. Forcing myself to scroll through recipe sites, I wrote down anything that seemed mildly appetising. Then, when I felt like it, I cooked a bunch of those things so I had meals and snacks on hand at all times.
3. Prepare the Network
I announced my pregnancy to the world at eight weeks for a few reasons. One was to raise awareness about pregnancy, silence, and miscarriage, but also to arm my troops with the knowledge that I might need help. Deciding to tell people early is a personal choice but one I made so that I could have support if things didn't go to plan, or if I needed a hand.
4. Listen to your Body
I didn't see the inside of my gym for most of my first trimester. Contrast that with a very active first pregnancy I worried that I wouldn't be as healthy this time around, that I was doing this new baby a disservice. Then I remembered point number one. My body wanted rest, so rest I gave it.
5. Make a list of what you needed help with Last time
It's a good idea to know what kinds of things you'll need in case people offer to help (and they will). Don't be polite and say 'nothing' or you'll end up with a heap of flowers you can't eat and fluffy toys that can't empty the dishwasher. When in doubt ask for food.
6. Embrace the physical changes
No cardio, and carbs, and naps, oh my! I stressed about the 'second pregnancy weight is harder to lose' mythology. So what if it is? Last time I got my fitness back to about 85-90%. Let's face it, our bodies have made miracles. They will never 100% function the same way- that's what happens when two humans share one body. I made the decision to stop worrying about it and focus on getting through the pregnancy.
7. Manage Your Expectations
I think I've accepted (finally) that this pregnancy, this birth, and this child will be completely different from the last one. Having a blank slate helps avoid disappointments and also allows you to take every day as it comes. Nothing worse than fighting against something simply because it was 'different' in the past.
Every pregnancy IS unique. There's a lot of energy in worrying so let go of the guilt and grow a healthy bub.
How did you deal with a second pregnancy? What's your best survival tip?
I'm an expat, which doesn't help the situation, but parenthood is a foreign land to anyone who hasn't been there before so I'd say we are all in the same, unfamiliar boat. Here are five ways for new Mums to stay social.
Modern Mummyhood
There are many reasons Mothers today are more isolated today than ever; moving away from family, demanding careers, cultural pressure to do it all, and living more of our lives online.
Chances are, even if your family and friends are nearby, they are busy with their own lives, careers, and families. Maybe your people don't have kids yet and simply don't understand.
No matter the individual circumstances, it can feel like someone plonked you down in an alien land, handed you a baby, and took away your smartphone.
In the good-ole-days villages helped with child-rearing no questions asked but today we feel like we need to try and figure it all out ourselves. Then we do something really dumb and go to Pinterest for ideas (comparison is the theif of joy).
I propose we start creating our own villages!
Here are my Five Ways For new Mums To stay social and connected
1. Learn to ask for and accept help
When people offer to help all you need are two little words; "Yes" and "Please."  Ask them for what you REALLY need ie: Hold a baby while I nap or shower. Tell them to bring food. All the food. Don't feel guilty, there will be many opportunities to pay it forward.
2. Go to your Mothers group
Keep an open mind. We've all heard stories about the judgey-mum, the extreme-nature-mum, or the annoyingly-perfect-mum. Take a moment to recognise that other Mums are in the same Amazing Race. Build alliances.
Take it from one who knows, the ones who look like they have it all together are often the ones struggling the most.
3. Find Some Regular, Dedicated Me Time
Look, I know creche or occasional care costs money but you NEED me time. See if you can swing it by cutting your grocery budget or make a sacrifice somewhere else. Perhaps you can swap babysitting duties with a friend or rely on a relative. 
This might sound anti-social in a post about staying social but I believe downtime is invaluable for your mental health and wellbeing. You can always use it to take a class or interact with people if that's what energises you. Or do something lovely for yourself like take a nap or see a movie. You'll be better company even if just for yourself.
4. Make sure to keep in touch with your friends
Do this in whatever way you can manage best. I'm a big fan of group messages because there are several people on there and no one expects a speedy response. Don't forget your childless friends (they always have better stories right?) Sometimes I just want to hear about someone else's life even when I have no news of my own. Don't loose touch.
5. Go online and meet local mums in your area IRL
Join a Facebook or meet-up group or go online with the intention of joining a face to face group. The Australian Breastfeeding Association have localised meetups, mindfulness workshops are popping up all over the place. There are growing mummy-matching groups like Hello Mamas you can join for free. There is no substitute for human interaction.
How do you stay social??
Some Women regret Motherhood and I can see why. So much of it is tangled up in our identity whether we like it or not. I'll explain what I mean.
My daughter gave me an identity but not How you Might Think.
Yes, she made me a Mother, the instant shift which occurs with a child's birth, but that's not what I'm talking about. When 'Mother' landed on-top of my identity totem pole (wife, mother, sister, friend, employee) I crumbled and splintered under the weight of it.
Then, the scramble began.
When something breaks it's time to evaluate. To remove the rubbish and rebuild with only functional pieces. The process is uncomfortable at best and downright painful at the worst. For me, depression settled among the sawdust.
No one talks about how Motherhood dredges up any painful childhood memories you might have been band-aiding for decades. In order to fix that stuff permanently you need to revisit every awful detail.
For me that meant therapy. Lots. It meant a year-long bout with postnatal depression and it's cousin, anxiety. It meant figuring out who I was, who I wanted to be, and no longer caring about anyone else's opinion. Former people pleaser, right here folks <————-
Setting an example for my daughter became my sole motivation to get my shit together. I wanted to be a woman who had passion and fulfillment in life. So when I say my daughter gave me an identity, I'm not talking about the label 'Mother,' but rather how she was the catalyst for me to reclaim, create, and decide who I wanted to be.
What about the Women who aren't sure They Want Kids?
I always wanted children and remember helping when my little brother was born. Always the babysitter, I have over 20 younger cousins on my Father's side alone. I knew how to hold a baby, how to change a nappy. I had no idea how my own flesh and blood would try to swallow me whole.
The moment we came out of the birthing suite and laid her in the hospital bassinet she started choking on mucus. I thought all that stuff would have been squeezed out from the two hours she spent in my birth canal. Immediately terrified and from that moment on I felt completely unprepared to take responsibility for her precious life. She was so delicate and I, so clueless.
For someone who always wanted kids and who had low expectations for Parenthood, even I was crushed by the weight of it. Well-meaning strangers amplified my feelings of failure by telling me to enjoy every single moment (maybe I would have enjoyed it more with some sleep and regular showers). The old me was buried under expectations, martyrdom, judgment and guilt. Imagine if I were a woman previously 'on the fence' about having kids? Someone who expected the baby to light up my world? Regret could have easily followed.
So what got me thinking about Motherhood and Identity In the First Place?
I came across a controversial article on about Mothers who regret having children. A taboo topic yet I felt empathy for those mothers. The honesty and bravery of the piece surprised me and then again, it didn't.
Modern motherhood sets us up for failure. The myth that children will magically give our life purpose. Few people speak up about the harsher realities of motherhood (I don't say parenthood because I feel the expectations on women are far greater). We are supposed to fall in love with the child immediately (not everyone does), enjoy every single moment (only if you are insane), we must always put children first (no one can parent successfully with an empty cup). Oh yeah- and we must do it all in isolation because our villages are gone.
So while I personally don't regret Motherhood, I can completely understand how some women would. I shared the article in on my Facebook page and insightful and honest discussion ensued (it could have gone in the opposite direction). 
Sited in the original article is this one written in 2005. It's written by a woman who publicly stated that she loves her husband more than her children. I remember seeing the author on Oprah, hearing the boos, watching the audience's negative reactions. A young adult myself, it never occurred to me that my parents had lives outside of the home. A year later they would divorce as soon as my brother graduated from High School, a classic case of 'staying together for the kids.'
Side Note: Don't stay together for the kids! Show the kids how to be truly happy!
There are More Important Things in Life.
Having my daughter made me want to be a better person, much like with a love affair, because I wanted to be worthy of being her mother. Deep down I felt unhappy with myself. I desperately wanted to be the example of a fulfilled, confident, successful and satisfied woman but I was far from it and I'll be damned if I was going to put that responsibility onto my little girl.
So maybe I differ from the honest Oprah guest in that it's a constant struggle for me to PREVENT making my daughter the centre of my universe. To remember to save some energy for my relationship and for myself. After all, someday kids leave. And you're still there.
No matter what you see on social media, there is no perfect way to parent (and no perfect parents). I think it would be better to share our struggles and support one another more openly. Maybe that we could admit to ourselves and our children that life isn't meant to be one, long highlight-reel. But rather a series of attempts, failures, resilience and forgiveness. I think those are good lessons for both parents and children.
Can you understand why some mothers have regrets?
The 12-week rule is mainstream. Every day parents post joyful, clever, pregnancy announcements on social media...but only after the first trimester is done and dusted.
Questioning this socially-accepted timeline will usually garner a stock-standard reply: there is a higher risk of miscarriage within the first 12 weeks. This answer bothers me because it implies miscarriages should be kept secret too. What about women who prefer to have social support through such a difficult time?
Speaking of support, the first trimester is when some of the worst physical symptoms (like fatigue and morning sickness) present themselves. It's when women make diet and lifestyle changes which can lead to some serious fibbing if people notice (and they will). How many times can you claim food-poisoning or dodge a delicious Chardonnay?
My argument is that such a personal revelation should be left to the parents, not some societal standard- especially when people judge when you choose not to follow the guide. When we told friends about our first pregnancy at 8-10 weeks there were lots of big eyes, gasps, and comments like, "Wow, it's early!"
Let's stop making Mothers do the hardest weeks alone
I genuinely want to understand the reasons why people adhere to the 12-week rule. This is what I've found after speaking to friends, my Obstetrician, and Google but if you have a different point of view- please leave a comment. I'd love to hear it.
Reasons People Stick to the 12-week Rule
1. Most miscarriages occur in the first trimester. The risk reduces to 0.5% at week nine (Source) so why don't we spill the beans at ten weeks if it's really about miscarriage risk?
My thoughts: A miscarriage occurs in one out of every 4 or 5 pregnancies (depending on what stats you read). Miscarriages can happen well after 12 weeks. Stillbirths happen. Is a pregnancy ever really 'safe'? Of course not. So how long do we wait to celebrate or prepare?
2. The Pain of telling people about a miscarriage. Yes, it would royally suck 'un-telling' people about a pregnancy but isn't pain part of the grieving process? Should we really expect women to grieve alone?
My thoughts: The realist in me says that open honest discussion around the frequency of miscarriage would lead to better expectation management in early pregnancy.
"Are we 'allowed' to have it qualify as a grief? Are we expected to suffer in silence if it's such a common experience?" Bee Rowlatt
3. Workplace Discrimination. It is illegal to fire a woman for being pregnant but it happens. 
My thoughts: This is a societal problem. It should be addressed. Talking about it more might help.
4. Fear of the Unknown. Some women may experience an unplanned pregnancy and need to process the information slowly.
My thoughts: Understandable however will they magically feel ready to speak up at 12 weeks? Not necessarily. I say, let her speak when she's ready to.
5. Subsequent Miscarriage or infertility. This can be a long, emotional process for couples who have trouble conceiving. They may want to keep their journey private and that comes down to personal choice.
My thoughts: This is a personal and individual decision and your medical journey should be a private one if that's easier for you.
6. Superstition. In my opinion, this is the most intangible reason for secrecy because it implies the Mother is to blame. 
My thoughts: A women can no sooner 'jynx' her pregnancy than she can control it.
Where Did The 12-week Rule Come From?
Historically women would share news of their pregnancy during 'the quickening' which is when they first felt fetal movements and after several missed periods. This is usually after 20 weeks or the fourth month.
Ultrasounds were developed to detect chromosomal abnormalities in the 1970's and couples could decide whether or not to terminate based on the results (Source.) Perhaps this is the seed that started the whole 12-week-rule societal standard. So maybe waiting 12 weeks comes from the shame of not wanting to care for an 'imperfect' child.
Has it now morphed into something even bigger with more superstitions, taboos, and restrictions?
I used to silently judge people who shared the news 'too early.' As a woman, why would I default to that type of thinking rather than support? Seems rather passive of me not to question why.
So if I can't pinpoint the origins of the 12-week rule, maybe it's time to break it.
6 Reasons to Break the 12-week Rule
1. Society does not have the right to dictate something so personal. The decision to announce a pregnancy should be left to the parents based on their level of comfort and desire for privacy. There should be no societal standard, end of story. 
"For those who want to let people know their news, we should join them in celebrating their news and offering our support not our judgment." Steph, Writer
2. Miscarriage should not be shrouded in secrecy. For such a universal, human experience, we don't share about it enough. Some parents may move on quickly, sure, but some will experience a lifetime of grief. We have rituals and protocol for death but none for miscarriage.
3. You won't have to lie. Most women have to change their diet and lifestyle during pregnancy. I would hold a glass of wine and steadily pour it into my husband's glass throughout the evening (he was drinking for two and I was eating for two.) Unless you enjoy secrets, we have the opportunity to replace secrecy with empathy. 
"Staying quiet for 12 weeks while you grow a human being inside of you is nothing short of completely insane." Wendy Zamora
4. We can support women. I have not suffered a miscarriage personally but I can relate to suffering from depression in silence. I tried my hardest to push through, cover up, act like everything was FINE. This reinforces the societal stigma and fear of the disease and I fear the same happens with miscarriage. Let's talk about it, above a whisper.
5. To have boundaries. Today we live in a culture of social media where many people share 'too much information' where personal boundaries are often stretched to the limit and beyond. The decision of when, where, and how a pregnancy is revealed should be left to the individuals. End of story.
6. To build a village. Whether you're having a difficult first trimester or suffer a miscarriage, it helps to speak to women who have been there, who can offer advice and support. Having a solid network in place will better prepare you for new parenthood when it happens.
"Let us destroy the 'perfect pregnancy' myth. Are we 'saving' women from sharing the news of a miscarriage or are we saving our culture from the knowledge that pregnancy can end unexpectedly, that it can get ugly, that it's not all about cute bumps and a glow."
Conclusion and My Announcement
Let us destroy the 'perfect pregnancy' myth. Are we 'saving' women from sharing the news of a miscarriage or are we saving our culture from the knowledge that pregnancy can end unexpectedly, that it can get ugly, that it's not all about cute bumps and a glow.
Pregnancy is not 'polite' and women should not be burdened with making it appear to be.
Writing this today, I am seven weeks into my second pregnancy (probably 8 by the time I publish this). Part of me wanted to share immediately (I found out at exactly four weeks) but another part of me wanted to keep it close for a while because I share a lot of myself online. 
I am telling you our news because you are my people. We connect through stories and your support means the world to me. If this pregnancy does not result in a healthy baby, I will share that too- in my own time. Meanwhile, we will celebrate this bean because he or she means so much to our family already.
Editors note: I've gotten some feedback from women who choose to wait 20+ weeks to share their news. To them, this post probably seems like I'm more strongly advocating for announcing early but only when that helps the woman feel more supported. Wait if you want to wait, tell if you want to tell. Let's embrace the news no matter what. And let's better support women who experience miscarriage.
what do you think of the 12-week rule?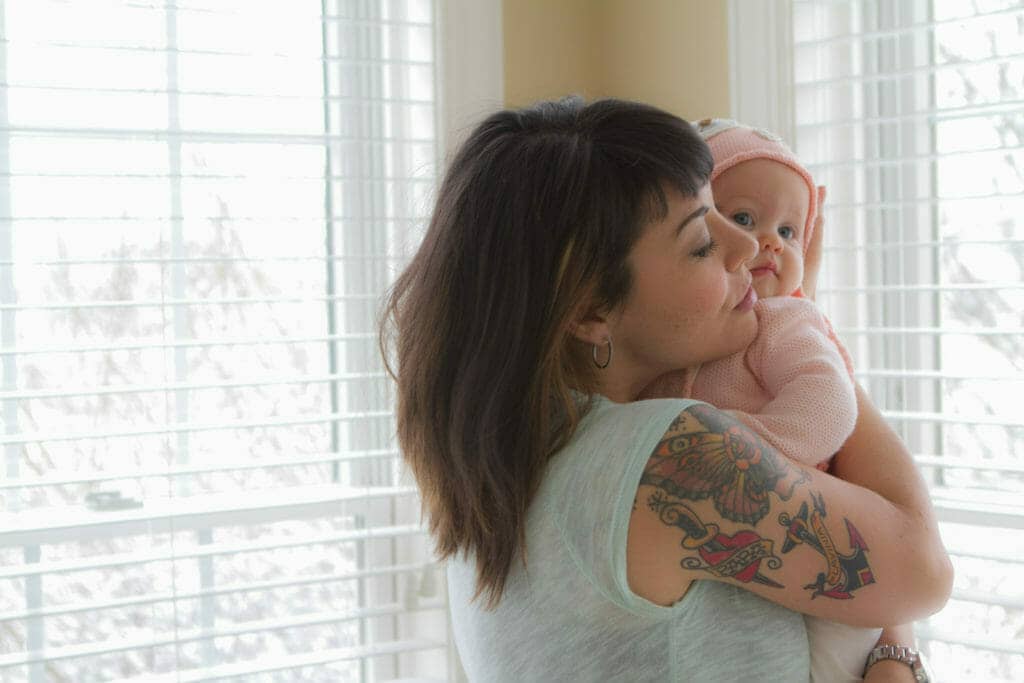 Brought to you by Bupa
Before becoming a mother, I thought postnatal depression looked like Brooke Shields on Oprah taking about how she didn't want to hold her baby. I remember watching that episode and thinking, 'How sad.' The teenage me had not a single, flippin' clue.
What I know now is that Postnatal depression is tricky and it looks different for everybody.
Fast forward from teen me to my personal postnatal nightmare. I obsessed over my daughter to the point where I imagined sending her into therapy for my neediness. It wasn't all negative, there were moments of love and joy, so I couldn't possibly have postnatal depression, could I?
In the background constant negative thoughts told me I was failing at Motherhood. That my child deserved someone who knew what to do, someone who wasn't so miserable, someone who could get out of pyjamas and go for walks in the sunshine. My daughter deserved a Mother who liked herself.
As for the bonding thing? Let's just make it irrelevant. I have plenty of friends without PND who didn't bond with their babies immediately. I mean, those majestic pink newbies are technically total strangers so it's understandable.
My personality is the only reason I bonded with my daughter. One look at my past and you'll see a string of impulse puppy purchases and deadbeat boyfriends; "I know he doesn't have a job and treats me bad but I looooooooove him." (Don't worry, I've learned my lesson.) Bonding schmonding, it was not an indication of my mental health.
Here is what I learned: If you suspect you need help, you do. Just like the old adage; if you suspect he's cheating, he is. See, I have learned a thing or two!
The backbone of my recovery was support. It can come from a variety of different places, family, friends, babysitters, online communities and tools. Bupa has developed some new resources that can also help.
In partnership with industry leading researchers, specialists and Mums, mummatters can assess your emotional wellbeing and provide you with tips and resources. It even provides regular check-ins to see how you're going. It's personalised too- so you will get information relevant to your unique situation.
There's something so valuable about getting a third party perspective on your emotional health. My husband wanted to suggest getting help but he had to walk on eggshells around my mood swings and didn't want to make me feel any worse.
Another thing I love about this tool is that it's confidential. I will never forget standing in my driveway (for privacy) and calling my MCH nurse. Our connection was crackly and she asked me to repeat myself until I practically shouted; "I think I'm depressed and I need help!" (In case any of my neighbours were wondering.)
Remember, PND can feel more like a rollercoaster of emotions than typical depression. There are high moments, which is why I think it's so confusing to self-diagnose. You might not want to pick up your baby like Brooke Shields or you might never want to put her down. The only thing that matters is that you treat yourself with the same tender care that you would give your own child.
When you are ready for a hand Mama, it's out there. You do not have to go through this alone.
If you or someone you love is suffering from Postnatal Depression or Anxiety please seek help.